Prerequisites
The following software is required prior to attending the class. Some of the software will be supplied by the instructor while others is required on the student's machine.
Student's Requirements

Windows XP
Internet Explorer or Mozilla Firefox
Microsoft Office: Word and Excel

Download Available

Latest download will be made available before week of class.
About Instructor
Sy Truong is the cofounder and president of MXI (Meta-Xceed, Inc.) since 1997. MXI provides software solutions within the Pharmaceutical Industry specializing in CDISC data standards, SAS validation, electronic submission, data analysis and reporting. Sy is one of the committee members of the Bay Area SAS User Group (www.basas.com). He is a frequent contributor and presenter at PharmaSUG, WUSS, and SUGI conferences. He's currently writing a book for SAS Publishing entitled Becoming a SAS Clinical Trials Programmer.
Course Information
When you plan for a road trip, you need a map. This is analogous to understanding the data that is going to be part of an electronic submission. The reviewer requires a road map in order to understand what all the variables are and how they are derived. It is within the interest of all team members involved to have the most accurate and concise documentation pertaining to the data. This can help your team work internally while also speeding up the review process which can really make or break an electronic submission to the FDA. Some organizations perform this task at the end of the process but they really lose out on the benefits which the document provides for internal use. It is therefore recommended that you initiate this process early and therefore gain the benefit of having a road map of your data. The process that is involved in managing and creating the data definition documentation is as follows: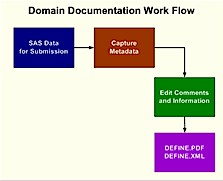 The process is an iterative one since the SAS datasets are updated. The constant need to update the documentation is therefore one of the challenges which this paper will address.